Our Teachers at Accel Music Studios
At Accel Music Studios, we are proud to offer you a well-educated and enthusiastic team of music teachers. All of our teachers currently hold at least a Bachelor of Music Degree or higher. It is very important to choose a teacher that is well
qualified, as music education is not standardized in Canada. Our teachers are a great match for all of our students, which is key for a student's healthy development and learning in music. If you have any questions regarding any of our teachers
​or general inquiries, please do not hesitate to contact us.
---

David Santry
Piano, Flute and Theory Instructor, Choir Director, Professional Musician.

As a founder of Accel Music Studios, David is proud to serve the musical community of Ottawa where he was born and raised. Music has always been his passion since the age of 7 where he was classically trained with
the Royal Conservatory of Music. He completed his Bachelors of Music with a specialization in piano
pedagogy at the University of Ottawa in 2008. Performance and competition have always been David's main goals and he
stresses those musical attributes as a music teacher. David's most recent competition was at the USOMC 2007 in California where he placed top three in several categories, each with over 40 international competitors. Although his main focus is in classical music, David believes it essential to study other genres as well, such as contemporary, rag and jazz. He has been
​privileged to study under the musical guidance of Claudia Cashin-Mack, Colin Mack, Jean-Paul Sevilla, Andrew Tunis and Susan Telner.


---

Sarah Case
Piano, Flute, Saxophone, Violin and Theory Instructor
​
Music has always been a main part of Sarah's life. She began her formal music journey at the age of 2
singing and dancing at her Kodaly music classes. This was soon followed by piano and theory studies
expanding the experience to performing in competitions and formal exams through the Canadian
Conservatory. Sarah then began playing the flute at Lester B. Pearson School for the Arts in London, Ontario. Seeking
further challenges at St. Thomas Aquinas Secondary School, Sarah began playing saxophone and trumpet, which gave her
the opportunity to perform in concert band, jazz band, and the high school musical pit band. Sarah is extremely passionate about music education, as she believes there are many lifelong benefits from studying music. She received a Bachelor of
Music Education from the University of Western Ontario as well as a Bachelor of Education from Queen's University.
Currently, as an occasional teacher for the Ottawa-Carleton District School Board, Sarah hopes to share her love for
music with all who want to learn. She believes everyone has the ability to play and enjoy music if they have the desire.
​Sarah structures her lessons depending on the needs of each student, with the focus on the individual and guiding them along path of music, with the goals to enrich overall development and enhance general well being.
---

Lisa Callahan
Piano, Clarinet, Theory Instructor

​Music has been a part of Lisa's life for as long as she can remember. Lisa began her piano studies at the age of 2 through the Music for Young Children program before transitioning to the Royal Conservatory of Music at age 7, and since has performed as a soloist, in duets, and as an accompanist for various choirs. Having been introduced to clarinet studies at the age of 14, she has been performing as a soloist and in ensembles, and is currently working to complete her Bachelor of Music on clarinet. Lisa's clarinet performance has ranged from Baroque chamber ensembles, to theatre pit bands, (highlights including "42nd St.," "Anything Goes!," and "Bugsy Malone") to the North Bay 22 Wing Military Band. Lisa knows that each student has their own strengths and weaknesses and shapes her lesson plans around each student's individual needs, providing a positive learning environment. While focusing on technique, sight reading, and musicianship Lisa aims to encourage student motivation, dedication, and confidence in performing.


---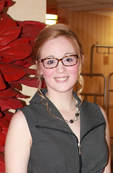 Rebecca Lord-Rainville
Piano, Vocal, Guitar and Theory Instructor

Rebecca is extremely passionate about music and teaching. She is currently completing a Bachelor of Arts degree with a major in Music accompanied by a double minor of Canadian Studies and History at
Carleton University. She hopes to further her education by obtaining her Bachelor of Education.
Rebecca's many years of competitive performance experience has helped shape her understanding and outlook on various aspects of learning, and performing music. Rebecca believes music has the ability to
enrich the lives of all people who come into contact with it, and as a result creates and emphasizes the importance of a fun learning environment! Her high energy, positive and fun personality coupled with her passion and drive she has for music and ​teaching will be sure to have you hooked and groovin' to the music in no time!


---

Caitlin Santry
Flute, Piano, Ukulele, Ear Training, Theory Instructor

Caitlin Santry was born and raised in Ottawa, Ontario, and began playing the flute at the age of 12. She began studying with flutist Natasha Harrison while attending high school. Caitlin has completed her Bachelor of Music Degree with a Minor in Arts Administration at the University of Ottawa in the spring of 2008, studying with Joanna G'Froerer of the NAC Orchestra. She has also received a Master of Music degree from the University of Western Ontario in June of 2010 where she studied with Fiona Wilkinson. At UWO, she taught extensive solfege and ear training classes to undergraduate students. Over the years, Caitlin has performed in many chamber music and orchestra concerts, as well as solo recitals. Caitlin has also been a dedicated pianist since a young age, and has maintained a teaching studio in the Ottawa area since 2002. Many of her students have achieved high grades in piano and flute, for the Royal Conservatory of Music examinations. Caitlin always strives to create a positive learning experience in her lessons. Her teaching style aims to develop an appreciation and enjoyment of music as well as to develop important life skills such as dedication, motivation, and perseverance.


---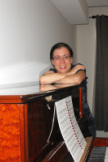 Janet Samra
Piano, Ear Training, History & Theory Instructor

Janet began learning the piano at the age of 7, but, her love for music was first sparked by her elementary school teacher. Janet has been thoroughly trained in both the Suzuki method which inspired her to play sensitively and expressively and through the Royal Conservatory of Music which allowed her the tools to play more confidently and adapt to new styles of music. Janet has actively served as an adjudicator's assistant for many music festivals and was the winner of the Inspiration Award at the Vancouver music festival. Because of the impact that her elementary school teacher had, Janet not only pursued her musical aspirations but also broadened her knowledge by attending Trinity Western University becoming a certified elementary school teacher and also attending Regent College obtaining a Master of Divinity. Janet believes that everyone can learn to play the piano and as such she has also trained on how to teach exceptional children. (i.e.: Autistic including Asperger's, ADD, ADHD, Down's syndrome, FAS and more) Janet's teaching style is in a constant state of flux based on the knowledge that every student may have different learning styles and needs, but they can all learn and thrive if taught in the way they require. With this in mind, Janet makes every lesson an interesting, encouraging and personalized experience. She helps her students play for fun but also challenges them to achieve specific, measurable goals, overcome their fears, and if desired, prepares them for performing. Janet seeks to instill in her students an in-depth love of music that they will carry with them throughout their entire lives and the knowledge that "Music is not to Hear, it is to Feel!"


---

Adam Grydzan
Piano, Alto and Tenor Saxophone, Theory Instructor

Adam Grydzan is an Occasional Teacher for the Ottawa Carleton District School Board. He received a Bachelor of Music Degree from Queen's University in 2013 specializing in Piano under the study of Dr. Adrienne Shannon, World Renowned Pianist. The following year he received a Bachelor of Education degree focused in music education from Queen's University in 2014. ​Adam's teaching philosophy is structured around a student-centric teaching style in which both the teacher and student form a partnership on their individual music journey. His lesson plans are tailored to create a well-rounded musician but focused mainly on the students interests. Adam has studied the Piano for 17 years and has taught music to students of all ages - young and young at heart - in the classroom and in private lessons. He has played the saxophone for 15 years playing in Jazz Ensembles, Concert Bands and Marching Bands.Adam has performed with former rock band The Ize in many venues around Ontario with notable performances for the Burlington Sound of Music festival and performances at The Mod Club and The Opera House. He was one of two songwriters for the group at the time.Studying music from a young age he has performed for years in the Burlington Teen Tour Band as well as various Jazz Ensembles and as a solo Pianist during his years at Queen's University.



---

Eduardo Flores Suarez
Guitar, Drums, Percussion Instructor

Eduardo has been a performing musician since 1978. He attended to Humber College of Applied Arts and he graduated in 1984 with a major in composition and arranging. As a performing musician Eduardo has the opportunity to play various styles and venues, from local bars and dining rooms to Nassey Hall in Toronto and the Smithsonian Institute in Washington. Over the years Eduardo has developed a large repertoire of styles, bringing music reading and stylistic knowledge together. In addition to this Eduardo plays contemporary piano, guitar, bass and drums allowing him to have an excellent over all musicianship. Last but definitely not least Eduardo is well acquainted with the workings of music theory, melodically harmonically and rhythmically, allowing him to extrapolate each portion of the music to explain how they work together.


---

Chiyo Watanabe
Piano and Theory Instructor

Chiyo Started taking classic piano lessons at the age of 5 in Japan from a tutor of Kawai Piano School (later from Tsutomu Suzuki from Tokyo University of Arts). Becoming a member of competitive school brass band as a clarinettist, she switched to playing popular piano on her own. Her love for music opened another door for dancing and she actually had been dancing (jazz/modern dance and flamenco) for many years, too. After having lived in Belgrade in Serbia, where she had opportunities to teach piano for small children, Chiyo immigrated to Canada in March 2007, The same year she started giving piano solo performance at a seniors home. In 2008, her playing "Misty" surprised a piano teacher at a music school. Where Chiyo was recommended to go to Brian Browne, Canada's proud jazz pianist. Studying jazz chord theory and improvisation with Brian Browne, now Chiyo is engaged with multiple retirement/nursing homes as a pianist, having wide repertoire from classical to jazz.


---

Ms. Anastassia Grankina
Piano and Theory Instructor

Native of Novosibirsk, Russia, Anastassia started her music education in one of the local music schools when she was six years old. Her interest and love for music grew as she continued with very classical training. With the encouragement and support of her family and her wonderful teacher, she was actively performing at numerous concerts and competitions every year. After coming to Canada at the age of 12, Anastassia continued to pursue her passion for piano performing. She has completed her Bachelor of Music at the University of Ottawa, and she is currently completing her Masters of Music. Anastassia has been very lucky to study with such great pianists, like David Jalbert, Boris Lysenko, Andrew Markow and John Perry. While being actively involved in collaborative recitals and training for various Canadian competitions, Anastassia really enjoys teaching piano lessons at the studio. She understands the important role that music plays in the each person's development. She has many years of experience of teaching piano lessons and she feels truly honoured to be able to teach and pass on her knowledge and love for music. Anastassia models her lesson plan according to the specific needs of every student, while always maintaining the focus on the gradual learning of theory, solfeggio, and ear training, as well as helping develop strong sight-reading skills, technique and musicality of the performance.


---